Fangkuai gas steam boilers have high efficiency, ease of installation, and reliable performance. They are an excellent choice for both industrial and commercial applications. In this guide, we'll explore the ins and outs of gas fired steam boilers, including how they work, their advantages and disadvantages, and what to consider when choosing one for your property.
What is a gas-fired steam boiler?
A gas-fired steam boiler is a type of boiler that uses natural gas or propane as a fuel source to heat water and produce steam. This steam is then distributed throughout a building or facility for various applications, such as heating and power generation.
Working principle.
A gas steam boiler works by burning natural gas or propane in a combustion chamber, which heats up water in a heat exchanger. The heated water turns into steam, which is then transferred to radiators, baseboard heaters, or other heat distribution systems throughout the building. The steam then condenses back into water and returns to the boiler to be reheated and reused in a continuous cycle.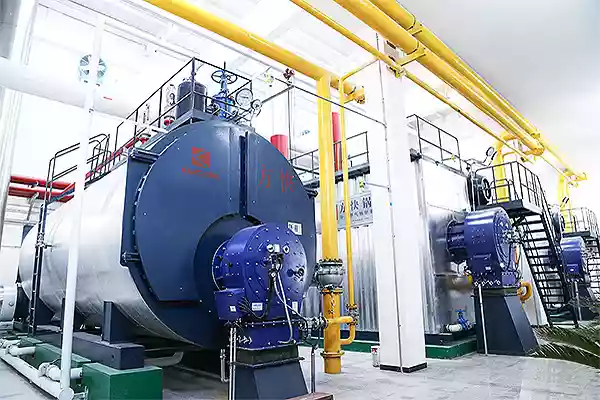 Efficiency.
Modern high-efficiency gas boilers can achieve efficiencies of up to 95% or higher. However, older or less efficient boilers may have efficiencies ranging from 70% to 85%. The efficiency of a gas-fired steam boiler varies depending on the specific model and manufacturer.
Pros & Cons.
Pros:
High energy efficiency: Gas-fired steam boilers can achieve high energy efficiency, potentially reducing energy costs and greenhouse gas emissions.
Fast heating: Gas steam boilers can heat up quickly, providing rapid warmth to the building or facility.
Easy installation: Gas-fired steam boilers are relatively easy to install and can be retrofitted into existing heating systems.
Cons:
Reliance on gas supply: A gas steam boiler requires a continuous supply of natural gas or propane, which may be subject to price fluctuations and supply disruptions.
Maintenance: Gas-fired steam boilers require regular maintenance and servicing to ensure optimal performance and safety.
Potential safety risks: Gas leaks or combustion issues can pose safety risks, though modern boilers are equipped with safety features to minimize these risks.
What are the components of a gas-fired steam boiler?
A gas steam boiler consists of several key components that allow it to operate efficiently. These components include:
Burner: The burner is responsible for igniting the fuel (natural gas or propane) and generating heat. It also controls the amount of fuel and air supplied to the boiler.
Heat exchanger: The heat exchanger is a device that transfers the heat generated by the burner to the water in the boiler. It is usually made of metal and has a large surface area to maximize heat transfer.
Water tank or boiler: The water tank or boiler contains water heated by a heat exchanger. It may also have sensors and controls to regulate water temperature and pressure.
Control system: The control system includes thermostats or other temperature sensors, and various valves and controls that regulate the flow of water and steam throughout the system.
Pressure relief valve: The pressure relief valve is a safety device that can release excess pressure in the boiler to prevent accidents.
Circulation pump: The circulation pump circulates water or steam through the pipes and radiators in the building. It helps distribute heat evenly and efficiently.
Expansion tank: An expansion tank is a small water tank attached to the boiler that allows water and steam to expand when heated.
Chimney or Vent: A chimney or vent allows exhaust gases to exit the boiler safely.
Flue gas analyzer: This is a tool used to measure the composition of exhaust gas to ensure efficient combustion and safe operation of the boiler.
Combustion Air Inlet: This part introduces fresh air for the combustion process.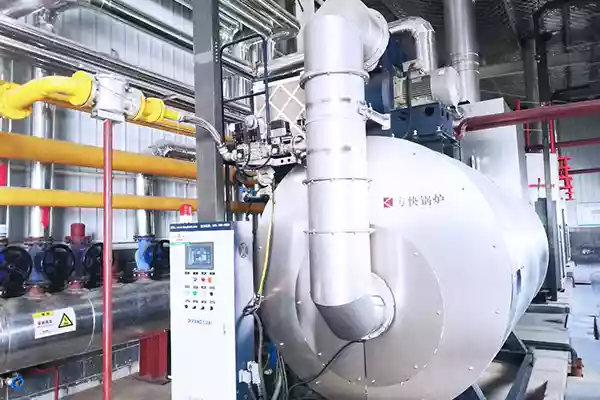 How much gas does a gas steam boiler use per hour?
On average, a gas steam boiler can use 70 to 300 cubic feet of natural gas per hour. The amount of gas a gas-fired steam boiler uses per hour depends on its efficiency rating, boiler size, and thermostat setting. It is important to note that an efficient gas boiler can use less gas per hour, saving energy costs and reducing greenhouse gas emissions. It is recommended to consult the manufacturer's documentation to determine the specific gas usage for the boiler under consideration.
What is the price for a gas steam boiler?
The price for a gas steam boiler can range from $3,500 to $18,000 or more, depending on factors such as the boiler's size, efficiency, and features. Additional costs may include installation, permits, and any necessary modifications to the existing heating system.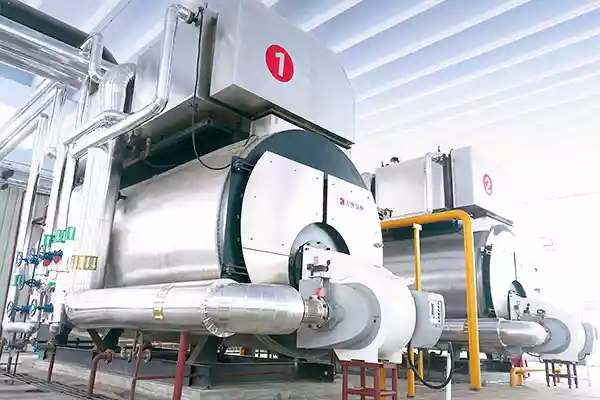 Boiler Size (T/h)
Fuel Type
Efficiency (%)
Estimated Cost (USD)
1-10
Natural Gas
85-94
3,500 – 8,500
95-98
5,000 – 10,000
Propane
85-94
3,800 – 8,300
95-98
5,300 – 10,800
10-20
Natural Gas
85-94
8,500 – 15,500
95-98
9,000 – 17,500
Propane
85-94
8,800 – 15,800
95-98
9,300 – 18,500
20+
Natural Gas
85-94
12,500+
95-98
15,000+
Propane
85-94
15,500+
95-98
18,000+
Conclusion.
In conclusion, gas-fired steam boilers from Fangkuai Boiler provide an efficient and reliable solution for your heating needs. With their high energy efficiency, fast heating capabilities, and ease of installation, these boilers are a popular choice among homeowners and facility managers alike. By understanding the components, performance, and costs associated with gas steam boilers, you can make an informed decision and enjoy the benefits of a comfortable and energy-efficient heating system.
FAQs.
Do steam boilers run on gas?
Yes, many steam boilers can use natural gas as fuel. However, they can also run on petroleum, propane, or other types of fuel, depending on the specific model and design. It is important to determine the appropriate fuel source for your particular steam boiler.
How long does a gas steam boiler last?
Generally speaking, a well-maintained gas steam boiler can last 15 to 30 years or more. The lifespan of a it depends on a variety of factors such as maintenance history, usage patterns, and quality of installation.
Is a steam boiler the same as a gas boiler?
No, a steam boiler is not the same as a gas boiler. A steam boiler refers to the type of boiler that produces steam as its output. On the other hand, a gas boiler specifically uses natural gas as its fuel source to heat water and produce steam or hot water.
What is the difference between gas and oil steam boilers?
Gas steam boilers utilize natural gas or propane, while oil steam boilers rely on heating oil. Both systems work on the same basic principle, but the choice between them depends on factors like availability and cost of fuel in your area.
How much electricity does a gas steam boiler use?
The gas steam boilers can consume between 1 and 3 kilowatts per hour (kWh/h), depending on the size and efficiency of the system. This consumption is relatively low compared to other appliances and systems in a typical home.
How much does it cost to replace a gas steam boiler?
On average, a new gas steam boiler can cost between $2,500 and $7,500. However, installation costs can add an additional $5,000 to $10,000 to the total cost, depending on the complexity of the installation and the local labor rates.
Get your best price
Quickly compare 3 FREE quotes
Engineer quick quote
The overall delivery speed is fast
Financial choice
Low installation costs and cost savings
Get Quotes Now
It only takes 30 seconds

25 years+ of boiler R&D
More than 20 innovative technologies